An Ideal Destination for Second Home Investments Property in Badlapur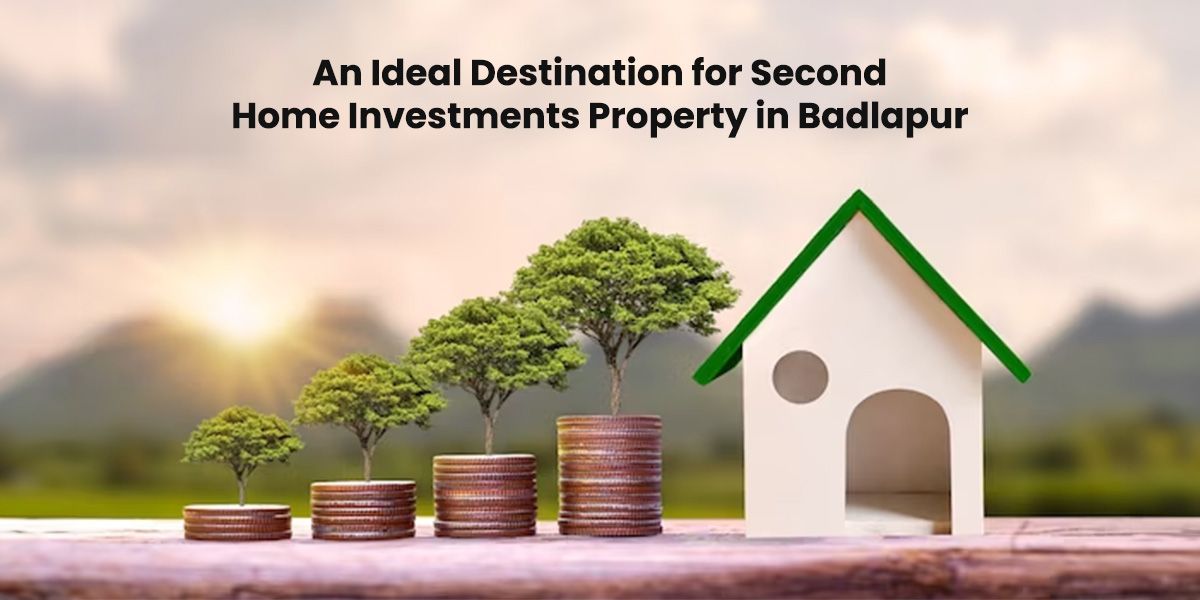 Investing in real estate has long been considered a safe and lucrative option. Unlike other investment avenues that may be subject to market volatility, real estate tends to provide stability and steady appreciation. Buying a second home as an investment property in Badlapur not only offers potential rental income but also serves as a tangible asset that can serve as a hedge against inflation. Additionally, second homes in well-placed locations like Badlapur can become a valuable asset for vacationing and relaxation, providing an added lifestyle benefit.
The Importance of Location in Real Estate Investment
When it comes to investing in real estate, location is often considered the golden rule. A well-located property in Badlapur not only ensures convenience and accessibility but also tends to appreciate value over time. Badlapur, nestled in the outskirts of Mumbai, has been gaining significant attention from investors and homebuyers alike due to its strategic location and well-planned infrastructure. With excellent connectivity to major highways and railway networks, Badlapur offers easy access to neighboring cities and business hubs, making it an attractive choice for second-home investments.
Tharwani Realty, with its ongoing new projects in Badlapur, offers a plethora of investment options for those seeking second homes in Badlapur. Whether it's Tharwani Majestic's luxurious living or Tharwani Solitaire's serene ambiance, each project holds the promise of a fulfilling lifestyle and rewarding returns. For those looking to embrace second home investments, Tharwani Realty presents an opportunity to own a slice of paradise in the bustling city of Badlapur.
Embracing Second Homes as Investment Properties in Badlapur
As the allure of Badlapur as an investment destination grows, more investors are considering second homes as a viable option. The serene surroundings, coupled with the promise of exponential growth, make Badlapur an attractive proposition for those seeking a balanced lifestyle and solid financial returns. Whether it's for rental income or long-term appreciation, investing in second homes in Badlapur can open up new avenues for wealth creation.

Introducing Tharwani Realty: Creating Dream Homes in Badlapur
Tharwani Realty, a renowned name in the real estate industry, has been at the forefront of shaping the landscape of Badlapur with its exquisite residential new projects in Badlapur. With a commitment to excellence and innovation, Tharwani Realty offers a range of ongoing projects that cater to the diverse needs and preferences of investors and homebuyers.
Tharwani Majestic: A Majestic Living Experience
Tharwani Majestic, a flagship project by Tharwani Realty, promises a life of grandeur and comfort. Designed to exude elegance and luxury, Tharwani Majestic offers spacious apartments that are thoughtfully planned for optimum functionality. The project is equipped with modern amenities like a fully equipped gymnasium, landscaped gardens, and a lavish swimming pool, providing residents with a lifestyle of unparalleled opulence.

Tharwani Solitaire: The Epitome of Serenity
For those seeking a tranquil living experience, Tharwani Solitaire is a haven of peace and serenity. Surrounded by lush green landscapes, the project offers a perfect blend of nature and modern living. Residents can enjoy the calming ambiance while indulging in facilities like a well-equipped clubhouse and a children's play area, ensuring a balanced and fulfilling lifestyle.
Tharwani Ariana: A Symphony of Luxury
Tharwani Ariana is a symphony of luxury living, where every aspect is designed to redefine urban opulence. The project boasts meticulously crafted apartments that offer panoramic views of the picturesque surroundings. With amenities like a rooftop terrace, multipurpose hall, and a jogging track, Tharwani Ariana ensures an elevated living experience that resonates with modern sensibilities.
Tharwani Millennium City: The Epitome of Urban Living
Tharwani Millennium City is a reflection of contemporary urban living at its finest. With thoughtfully designed apartments and state-of-the-art infrastructure, the project offers a seamless blend of comfort and convenience. The amenities like a well-equipped fitness center, indoor games room, and landscaped gardens create a holistic living experience for residents.
Embrace Second Home Investments with Tharwani Realty in Badlapur
Badlapur has emerged as an ideal destination for second home investments, with its strategic location and robust infrastructure. Tharwani Realty's ongoing new projects in Badlapur add further allure to this proposition, offering a wide array of features and amenities that cater to modern living preferences. Owning a second home in Badlapur through Tharwani Realty not only promises a life of luxury but also opens up new horizons for financial growth and stability. So, take a leap towards securing your future with a second home investment in Badlapur, brought to you by Tharwani Realty.