Exploring the Charm of Property in Kalyan: A Buyer's Guide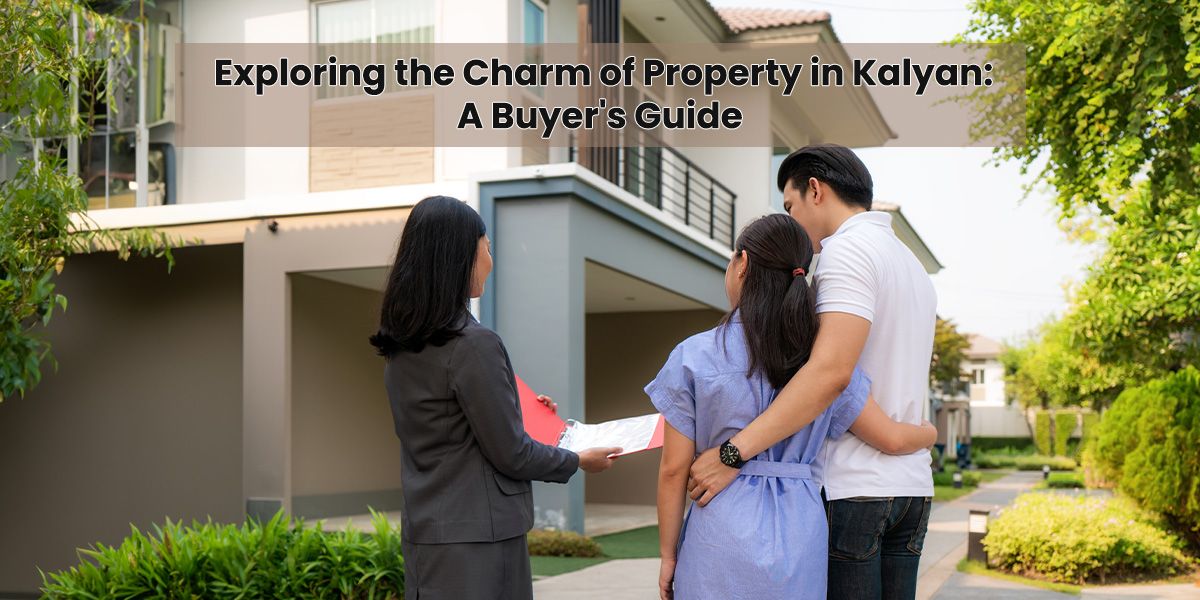 Introduction
Nestled amidst the picturesque landscapes of Maharashtra, Kalyan stands as a beacon of real estate promise, captivating potential homebuyers with its unique allure. Discover why Kalyan is a prime location for residential living and explore the exceptional properties offered by Tharwani Realty.
Why is Kalyan a good location for residential living? Kalyan, a flourishing city in Maharashtra, offers an attractive proposition for homebuyers seeking a blend of urban conveniences and natural beauty. With seamless connectivity, Kalyan serves as an ideal residential hub, especially for those looking to invest in properties with high ROI.
Tharwani Realty, a prominent builder in Kalyan, excels in crafting exceptional living spaces. Their projects in Kalyan and the surrounding areas boast seamless connectivity, ensuring easy accessibility to major cities. The properties also benefit from a robust social infrastructure, offering top-notch schools, healthcare facilities, and recreational zones.
As Kalyan anticipates upcoming developments like the metro, the real estate value is set to soar. Tharwani Realty's legacy of excellence is evident in properties like Tharwani Majestic and Tharwani Solitaire, which epitomize luxury and sophistication.
Investing in Tharwani Realty properties in Kalyan presents a golden opportunity for homebuyers to explore the city's charm while enjoying the comforts of modern living.
Tharwani Realty: Unveiling the Splendor of Exquisite Properties and Amenities
Among the many builders in Kalyan, Tharwani Realty stands out for its exceptional offerings. The brand prides itself on crafting elegant properties that exude charm and sophistication. Tharwani Realty's ongoing projects in Kalyan, such as Tharwani Majestic, Tharwani Solitaire, are a testament to their commitment to quality and excellence.
The properties offered by Tharwani Realty are designed to provide residents with a luxurious and comfortable lifestyle. From well-appointed interiors to modern amenities, every aspect of their projects is carefully curated to cater to the discerning tastes of homebuyers. Whether it's spacious apartments, lush green surroundings, or state-of-the-art facilities like swimming pools, fitness centers, and landscaped gardens, Tharwani Realty ensures that residents enjoy a life of utmost comfort and convenience.

Ongoing Projects in Kalyan by Tharwani Realty: A Showcase of Elegance
Tharwani Realty, has an impressive lineup of ongoing projects that are garnering attention in the real estate market. These projects, situated in prime locations in Kalyan, offer a range of elegant properties that cater to different preferences and budgets. Their luxurious apartments exemplify their commitment to delivering exceptional quality and craftsmanship. With a focus on modern design, state-of-the-art amenities, and meticulous attention to detail, these projects are redefining the landscape of property in Kalyan. The projects by Tharwani Realty are a testament to their expertise as builders in Kalyan, offering a wide range of options for individuals and families looking to invest in this vibrant real estate market.
Prime Location and Neighborhood: The Epitome of Luxurious Living in Kalyan
One of the key advantages of investing in property in Kalyan is its prime location. Kalyan offers easy access to Mumbai and other major cities, making it an ideal choice for professionals who commute regularly. Additionally, the area is well-connected to educational institutions, healthcare facilities, shopping centers, and entertainment hubs, providing residents with a vibrant and fulfilling lifestyle.
Kalyan's neighborhood is a blend of tranquility and urban convenience. The area is surrounded by picturesque landscapes and green spaces, creating a serene environment for residents to relax and rejuvenate. With an abundance of parks, gardens, and recreational facilities nearby, residents of Tharwani Realty's properties in Kalyan can enjoy a balanced and fulfilling lifestyle.

Conclusion
In the end, the charm of property in Kalyan is undeniable. Kalyan offers a promising investment opportunity for buyers. Among the many builders in Kalyan, Tharwani Realty shines with its elegant properties, world-class amenities, and commitment to quality. Whether you're looking for a luxurious residence or a sound investment, Tharwani Realty's ongoing projects like Tharwani Majestic and Tharwani Solitairein Kalyan are worth considering. Embrace the charm of Kalyan's real estate market and elevate your lifestyle with Tharwani Realty.