Unlocking the Potential of Luxurious Housing Projects in Kalyan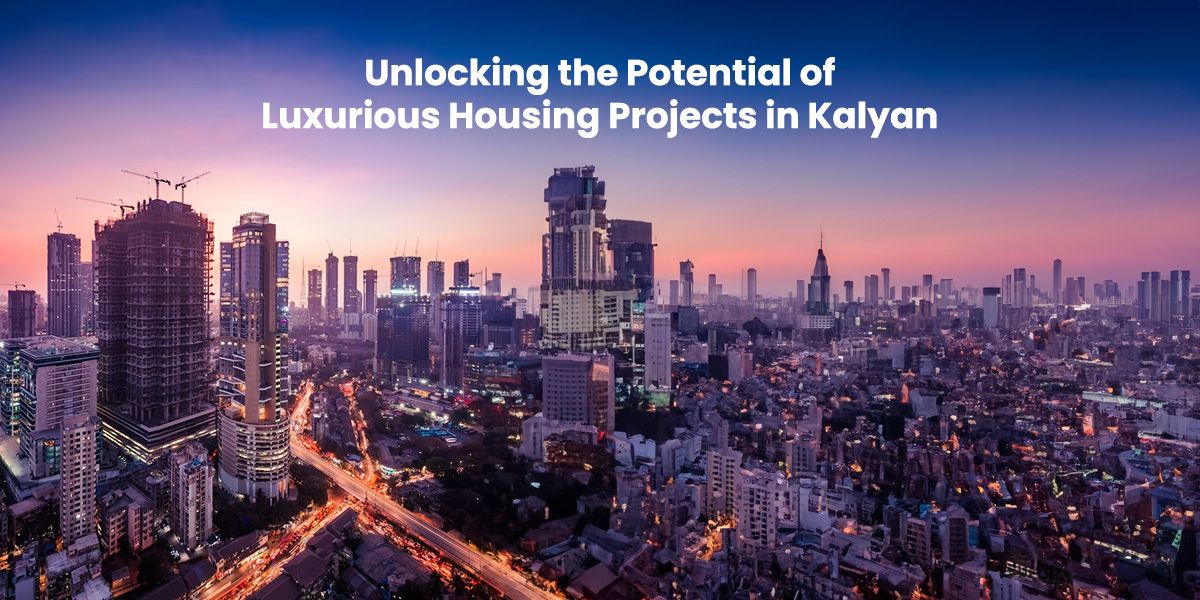 When it comes to top-notch real estate developments in Kalyan, Tharwani Realty stands out as one of the leading builders in Kalyan region. With a legacy of excellence and a commitment to quality, Tharwani Realty has been shaping the skyline of Kalyan with remarkable residential projects. As trusted builders in Kalyan, they prioritize customer satisfaction and deliver homes that exceed expectations. Their attention to detail, innovative designs, and use of premium materials set them apart in the industry. Whether it's luxurious housing projects or affordable homes, Tharwani Realty has earned a reputation for creating spaces that cater to diverse lifestyles and aspirations.

Why Choose Kalyan
Kalyan's appeal as a residential destination lies in its strategic location and accessibility. Situated at the confluence of multiple highways and railway lines, Kalyan offers excellent connectivity to major business hubs and commercial centers, making it an ideal choice for homebuyers seeking both luxury and convenience. The city's infrastructure development has been on an upward trajectory, with top-notch schools, healthcare facilities, and recreational spaces dotting the landscape. Kalyan effortlessly caters to the lifestyle preferences of modern homeowners, further fueling the demand for luxurious housing projects.

Features and Amenities
Luxurious housing with upcoming new projects in Kalyan are designed to cater to the desires and aspirations of urban dwellers. These projects boast an array of premium features that redefine contemporary living. From spacious apartments with panoramic views to state-of-the-art fitness centers and recreational spaces, these projects leave no stone unturned in providing an opulent lifestyle. Lavish swimming pools, landscaped gardens, and exclusive clubhouse facilities are among the amenities that elevate the living experience for residents.
The focus on privacy, security, and personalized services is another hallmark of luxurious housing projects in Kalyan. Gated communities with round-the-clock security ensure a safe and secure environment for residents. Additionally, concierge services and well-managed maintenance further enhance the convenience and comfort of luxurious living.

Tharwani Realty: A Name for Excellence
When it comes to luxurious housing projects in Kalyan, "Tharwani Realty" stands tall as one of the most reputable and customer-centric developers in the region. With a strong commitment to quality, innovation, and customer satisfaction, Tharwani Realty has carved a niche for itself in the competitive real estate market.
One of the distinctive features of Tharwani Realty's projects is their meticulous attention to detail and exquisite craftsmanship. Each project is thoughtfully designed to exude elegance and sophistication, setting a new benchmark for luxury living. Tharwani Realty's portfolio boasts a diverse range of projects, catering to different preferences and requirements of homeowners.

Investment Potential of Luxurious Housing Projects
Tharwani Realty's luxurious housing projects in Kalyan offer not only a lavish lifestyle but also present an excellent investment potential, making them a preferred choice for discerning investors. With its track record of delivering premium properties that appreciate over time, Tharwani Realty has established itself as reliable builders in Kalyan, providing a sound opportunity for long-term returns on investment in the luxury real estate market.
A Glimpse into the Lifestyle Offered
Luxurious housing in Kalyan redefines the concept of modern living, offering residents a lifestyle that is second to none. These projects not only provide top-notch amenities but also create a sense of community and exclusivity. Residents can socialize in stylish common areas, host gatherings in elegant party halls, and unwind in serene surroundings.
Residents of luxurious housing projects experience the true essence of urban luxury, with everything they need at their doorstep. The close proximity to retail outlets, entertainment centers, and fine-dining restaurants further enhances the convenience of luxury living.
Tharwani Realty's Signature Projects

Tharwani Realty takes pride in its portfolio of signature projects that exemplify the essence of luxurious living. One such project is "Tharwani Majestic Towers," a majestic residential complex that redefines opulence. The project offers an array of premium apartments, meticulously crafted to cater to the needs of modern homeowners. With lavish amenities like a rooftop swimming pool, landscaped gardens, and a well-equipped gymnasium, "Tharwani Ariana" stands as a testament to Tharwani Realty's commitment to excellence.
Future Prospects of Luxurious Housing in Kalyan
The future of luxurious housing projects in Kalyan looks promising, with an increasing number of homebuyers seeking premium living spaces. As the demand for luxurious housing in Kalyan continues to surge, Tharwani Realty, as one of the prominent builders in Kalyan, is poised to shape the future of opulent living with its innovative and upscale projects. With its commitment to quality and customer-centric approach, Tharwani Realty is set to play a key role in redefining the landscape of luxurious housing in the vibrant city of Kalyan.
Unlocking the potential of luxurious housing, new projects in Kalyan unveils a world of sophistication, comfort, and exclusivity. These projects redefine modern living, offering a haven of luxury in the heart of the city. With "Tharwani Realty" spearheading the development of opulent residential spaces, the future of luxury living in Kalyan appears bright and promising. For those seeking a lifestyle that epitomizes grandeur and convenience, the luxurious housing projects in Kalyan are a gateway to the pinnacle of urban living.