Tharwani Realty - Where Every Project Tells a Unique Story of Excellence
By Admin
November 17, 2023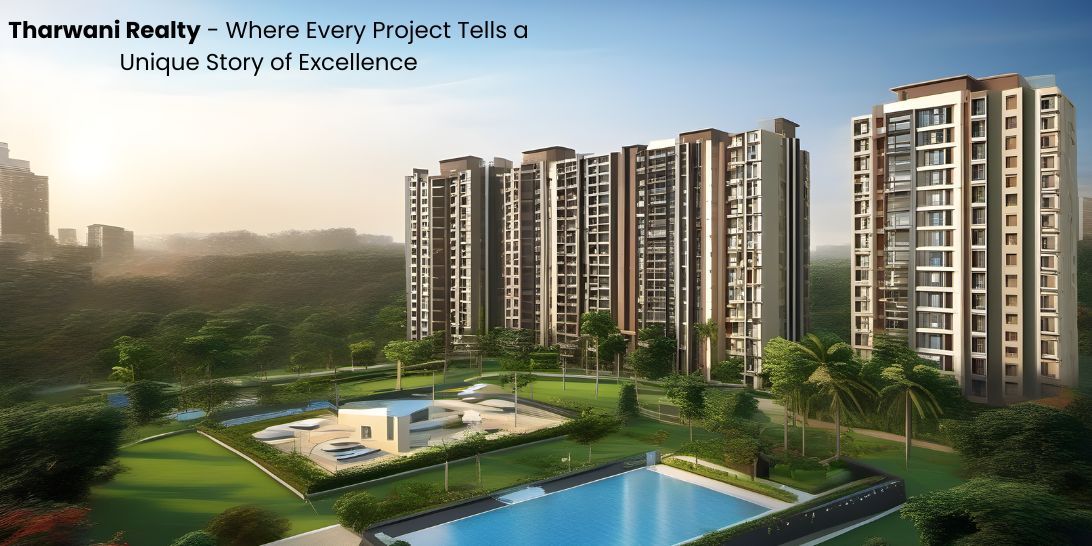 In the dynamic world of real estate, Tharwani Realty stands out as a brand that has redefined the art of crafting homes. Their commitment to excellence and an unwavering focus on customer satisfaction has propelled them to the forefront of the industry. With a strong presence in prominent locations such as Kalyan, Ambernath, Badlapur, and Kharghar, Tharwani Realty has not only left an indelible mark but has also etched a unique story of excellence with each project.
Tharwani Realty: A Success Story in Real Estate
The Builders in Kalyan Tharwani Realty's journey in the real estate industry has been a remarkable success story. Their commitment to excellence and customer satisfaction has set them apart. With a focus on creating homes that not only meet the needs of the present but also provide for a promising future, Tharwani Realty has consistently delivered.
Tharwani Realty's success is evident in the uniqueness of each project they undertake. Whether it's Tharwani Majestic in Kalyan, Tharwani Solitaire in Kalyan, Tharwani Ariana in Ambernath, Tharwani Millennium City in Badlapur, or Tharwani Palladian in Kharghar, every project tells a different story. They understand that each location has its own charm, and they design their properties to complement the surroundings.
Tharwani Realty: Shaping Dreams into Reality
Every real estate project is a story, a journey, and an aspiration. Tharwani Realty understands this, and with every endeavor, they strive to turn dreams into reality. Whether it's a property in Kalyan, Ambernath, or Badlapur, Tharwani Realty's projects have redefined living spaces. Let's explore some of their notable projects that narrate stories of excellence and innovation:
Tharwani Majestic - Khadakpada, Kalyan
Nestled in the heart of Khadakpada, Kalyan, Tharwani Majestic is a true reflection of luxury and comfort. This project offers a diverse range of housing options, including 2 BHK in Khadakpada Kalyan. What sets Tharwani Majestic apart is its unwavering commitment to quality, providing residents with modern amenities and a serene environment. Each apartment is designed to offer a lifestyle of opulence and tranquility, making it a unique choice for those seeking a property in Kalyan.
Tharwani Solitaire - Kalyan
Tharwani Solitaire in Kalyan is another jewel in Tharwani Realty's crown. This project stands as a testament to their dedication to excellence. Offering a range of options from 2 BHK to 4 BHK in Kalyan, Tharwani Solitaire caters to a diverse range of homebuyers. With a keen focus on convenience and modern living, this project provides a lifestyle that is both luxurious and convenient. It's no wonder that it's a sought-after choice for those in search of property in Kalyan.
Tharwani Ariana - Ambernath
Tharwani Ariana, situated in Ambernath, epitomizes the art of blending natural beauty with modern living. The 1 BHK and 3 BHK flats in this project offer residents a tranquil environment, making it an ideal choice for those who appreciate serenity. Tharwani Ariana's dedication to quality and thoughtful design is evident in every aspect of this new project in Ambernath, making it an attractive option for those looking for property in Ambernath.
Tharwani Millennium City - Badlapur
Badlapur is a location with immense potential, and Tharwani Realty recognized this early on. Tharwani Millennium City in Badlapur has redefined the real estate landscape in this rapidly developing area. With a strategic location, an array of amenities, and a variety of configurations, this project is the perfect choice for those seeking a 3 BHK & 2 BHK in Badlapur. It showcases Tharwani Realtors vision and ability to create thriving communities in emerging suburbs.
Tharwani Palladian - Kharghar, Navi Mumbai
Tharwani Palladian, located in Kharghar, Navi Mumbai, showcases the brand's commitment to creating exceptional residential spaces across Mumbai's suburbs. Although it's not in Kalyan, this project exemplifies the brand's vision to offer a diverse range of properties. With a variety of options, including 2 BHK flats, Tharwani Palladian is designed to cater to a wide range of homebuyers.
Success and Development in Real Estate
Tharwani Realty's journey in the real estate industry has been nothing short of remarkable. Their success is attributed to their unwavering dedication to quality, innovation, and customer satisfaction. Over the years, they have developed a diverse portfolio of projects that cater to a wide spectrum of customers, from first-time homebuyers to those seeking luxurious living spaces. Their commitment to excellence has earned them a strong foothold in the real estate market.
A Reputation Built on Trust
One of the most significant achievements of Tharwani Realty is the reputation they have built over the years. They are synonymous with trust and reliability in the real estate sector. Their customers vouch for the quality of their new projects in Kalyan, and their transparency in dealings has won them the trust of homebuyers and investors alike. The many success stories of satisfied homeowners are a testament to Tharwani Realty's reputation.
In conclusion, Tharwani Realty is a brand that goes beyond just constructing buildings; they craft stories of excellence and innovation with every project they undertake. Whether you are in search of a property in Badlapur, Ambernath, Kalyan, or other suburbs, Tharwani Realty offers a range of choices designed to meet your unique preferences and needs. Their commitment to quality, their successful developments, and their stellar reputation in the real estate industry make them a name you can trust. Explore their projects and discover your dream home today. Tharwani Realty - Where Every Project Tells a Unique Story of Excellence.